All diese Fragen haben wir fünf faszinierenden Leading Ladies gestellt. Denn wir sind der Meinung, dass wir Leader*innen nicht nur unser Wissen teilen, sondern auch gemeinsam über innovative Lösungen für unsere vielfältigen politischen, sozialen, ökologischen und ökonomischen Herausforderungen nachdenken sollten – ganz im Sinne von Collaboration und Co-Creation. Und last but not least sollten wir mutige Visionen formulieren, die unsere Zukunft mit erstrebenswerten Perspektiven erhellen.
Auf den folgenden Seiten teilen diese Leaderinnen ihr Wissen mit euch: die Managing Director von Volvo Car Switzerland, Natalie Robyn, die Managementberaterin, Zukunftsforscherin und Betriebsökonomin Diana Wolf-Dolgner, die AI-Expertin und Innovatorin Dalith Steiger,
die Beraterin und Adventure Specialist bei Pontinova Experience, Maike van Dijk, sowie die ruandische Botschafterin in der Schweiz, Marie Chantal Rwakazina, die zuvor Bürgermeisterin der ruandischen Hauptstadt Kigali war.
Natalie Robyn
What are the top two issues that are challenging you as a leader?
First: throughout the pandemic, there has been a shortage of semiconductor processing chips and the automotive industry has been hit particularly hard, affecting our global vehicle supply. This has required manufacturers to look at an overhaul of their components supply chains as a workaround to ensure continued production, which has mitigated some of the problem but continues to affect delivery times and options. The next step is to continue to optimise while planning for future supply chain risk mitigation.
Second: climate change. Climate change affects us all – but especially future generations. We are responsible for ensuring that the next generations can lead a good life on this planet. As an automotive manufacturer, we must take equal responsibility and help solve this problem. Be it with the development of new technologies, with electrification, with ideas such as the principle of circular economy.
Volvo Cars is pursuing an ambitious plan to combat climate change – at different levels. I support this and am proud to work in a company that has clearly taken this initiative already many years ago.
What are the most disruptive things that you expect to happen in near future?
Electrification of our cars, online sales, growth. Let me share why:
electrification is happening across the automotive industry, and Volvo has been one of the first movers with clear mid-decade ambitions to reduce its lifecycle carbon footprint per car by an average of 40% versus 2018, but is also aiming to eliminate combustion engines and be fully electric by 2030 as well as to be a climate neutral company by 2040.
Online sales means a seamless and easy online consumer journey: We want to be where our customers are. The buying process of many has changed due to digitalisation and also the pandemic. Our all-electric vehicles are sold online, which gives an easy way to buy and drive a Volvo.
And finally growth: as a company, we want persistent and sustainable growth. The holistic structures we are currently working on should also contribute to this. For example, new mobility services or flexible options, which will be the norm in the near future.
What is your personal vision of a future you would like to live in with your loved ones? What should we do to create a future together that is bright?
First of all I would like to live in a society with a stable political and economic environment including protected natural environments.
And: we need to get involved in things that matter to us, have a voice, and stand up and participate in change or drive those paths and decisions as leaders.
How can we overcome a collective trauma as a society and as individuals, as leaders and role models?
We as a society need to resocialise and reculturise. We need to build safe environments. As human beings, we should focus on values like empathy and involvement. This includes accepting a culture of error. We should all remain open to new things – and drive innovation.
---
Dalith Steiger
What are the 3 issues that are at the front of your mind at present and are challenging you?
First and foremost, the lack of recognition of how AI can contribute to tackling our challenges around the world, be it from our personal lives to climate change. I feel that we are too slow at recognising what this technology can and could do for us. Although, if we look back in history, at the end of the day, industrial revolutions generally brought positive changes with them. And this time, we're not just talking about industrial revolution alone, but also about answers to urgent global questions.
Second, and continuing on the same train of thought, although the assets are already there for us to ensure that we take off with AI, yet there is not enough attention going into it. With that, focusing now only on Switzerland, this country is known for its financial industry, pharma, watches and chocolate. Even though Switzerland has been in a very comfortable situation for decades, we cannot just lay back and take our welfare for granted. Now it is high time to add a more sustainable and economically competitive advantage. Every generation needs to stand up for themselves and invest their part into a sustainable workplace. I see it as our responsibility today to spotlight what is happening in the Swiss AI ecosystem and start putting more resources into it.
Finally, the need of diversity in the development and implementation of cognitive technologies is indispensable. If we want to further develop welfare, we need to take advantage of the entire available workforce – regardless of culture, colour and gender. To be truly innovative and sustainable, diversity is fundamental.
Why are these 3 issues so key for you and your industry and how do you try to face them?
Switzerland has always been a master at combining its only natural resource – the brain – with technology. Therefore, we must take care of our SMEs, which form the backbone of our economy.
Being active in the global AI ecosystem opens my eyes to see cross-industry successes, challenges, and potentials. I see the previously mentioned issues appearing again and again. How I face these, is certainly not alone. We do it with the power of the global AI network of SwissCognitive. It is a world-leading AI network that I co-founded with Andy Fitze in 2016, which in five years grew into a global highly respected network of over half a million AI experts, leaders, thought-leaders, and enthusiasts in around 100 countries.
We need to keep positioning Switzerland to become one of the top 5 AI competence centres globally.
Additionally, it is our passion to put a lot of effort into the young generation – encouraging them to get into the topic of cognitive technologies, which is a game-changer in almost any industry.
What are the most disruptive things that you expect to happen in the near future?
The development of business models is becoming more and more disruptive and is no longer linear. Our world, customer behaviour, preferences and needs are changing. Parallel to that, to keep up, our businesses and business models also need to be adapted, if not fully reinvented. It is going to be the smart combination of technologies and human intelligence which will enable businesses to stay innovative. AI is driving our innovation, accelerating our innovation cycles, sifting through trillions of possibilities in milliseconds. In this sense, tectonic plates are shifting and at the end of the day, no one wants to wake up realising that they are standing on the wrong plate.
Therefore, it is crucial to stay up to beat and invest resources into the development and implementation of cognitive technologies. Hand in hand with all that, the three key areas that I believe will be impacted the most in the near future are the health industry, access to education, and solving climate issues.
What is your personal vision of a future you would like to live in with your loved ones?
Even though I am in the field of cognitive technologies, and I am driven by the potentials of AI, I envision a future where we have more time for interpersonal relationships, both in our private and business lives. I would like to see AI to gain an enormous role in this – enabling humans to become human again.
Cognitive technologies not only have the potential to free us from repetitive tasks, make sense of our thousands of years' worth of data, but they also make our lives healthier and safer, and enable us to have more quality time to be spent with our loved ones.
What should we do to create a future together that is bright?
I see huge potential in collaboration, diversity, and sharing for success. Building strong ecosystems together, where we have as many disciplinaries, organisations, and industries involved as possible. At SwissCognitive, this is what I wake up for every day – keep building connections, building bridges, finding answers, and allow the global network to unfold the powerful combination of human and technology.
How can we overcome a collective trauma as a society and as individuals – as leaders and role models?
This again, I believe comes down to collaboration. This pandemic really showed us that we need to work together to be able to overcome challenges. It is not enough to put efforts into finding solutions in one country or in one industry. To be able to tackle challenges and come forward, we need to join forces, be responsible and care.
---
Maike van Dijk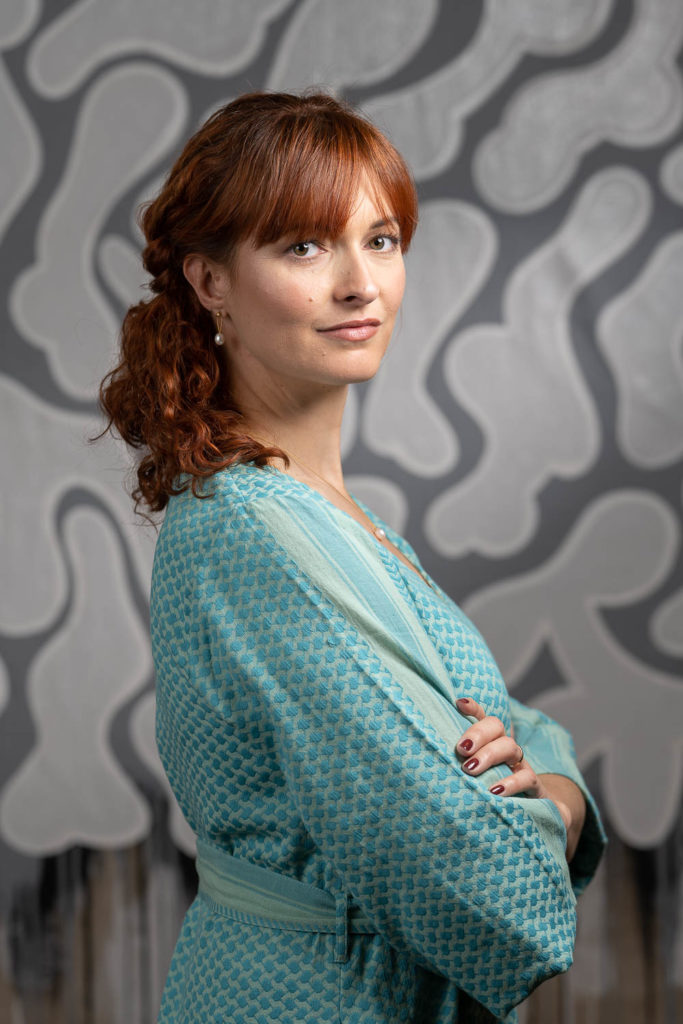 Director Business Development |
Adventure Specialist
Pontinova Experience GmbH
pontinova-experience.ch
Extreme Individualisierung führt zwangsläufig zu Vereinzelung
Was mich als Leaderin zurzeit am meisten umtreibt?
Individualität ist für uns heute nicht nur möglich, sondern wird vielseitig erwartet. Unsere Konsumwelt bietet alles, um sich der Hyper-Individualisierung zu verschreiben. Doch was, wenn man schon alles hat und sich doch keine Zufriedenheit einstellt? Extreme Individualisierung führt zwangsläufig zu Vereinzelung.
Das Leben in einer Gesellschaft, die von Wettkampf und Eigeninteressen geprägt ist, löst massenhaft ein Gefühl der Entfremdung aus. Was sie selbst wollen und was sie zufriedenstellt, spüren viele Menschen oft nicht mehr.
Dennoch sind viele unserer Klienten erst zu einem Umdenken bereit, wenn sie bereits mitten in der Krise stecken. Krisen sind heute sehr vielschichtig, da Arbeit und Privatleben meist eng verwoben sind.
Obwohl wir bei Pontinova Experience durch die Vereinigung unterschiedlichster, teils auch unkonventioneller Coaching-Methoden sehr gut auf die Komplexität heutiger Krisensituationen unserer Klienten einwirken können, wäre es noch schöner, mehrheitlich präventive Unterstützung leisten zu dürfen. Im Rahmen unseres Coachings verlassen Klienten ihre Komfortzone, wie es ihnen auch eine Krise abverlangen würde. Präventiv durchgeführt können Krisensituationen so abgewandt werden, und der heilsame Effekt der Erneuerung kann das eigene Leben regelrecht transformieren. Bei der Gestaltung dieser Programme lege ich besonderen Wert auf die Ausbildung resonanzfreundlicher Gegebenheiten, die das Bedürfnis nach Zugehörigkeit und Gemeinschaft stillen und zu einer inneren Haltung verhelfen, die uns erneut Verbundenheit mit uns selbst und unserer Umwelt erfahren lässt.
Ist die Zukunft strahlend und hell …?
Auf der Suche nach dem Gemeinsamen befinden wir uns an der Schwelle zu einer neuen Wir-Kultur. Dabei wird der Megatrend der Neo-Ökologie vermutlich das Disruptivste sein, was wir in naher Zukunft erleben werden. Insbesondere die damit einhergehende neue Achtsamkeit wandelt sich zu einem alldurchdringenden Denk- und Handlungsmuster. "Höher, schneller, weiter" hat ausgedient. "Besser statt mehr" fokussiert die Lebensqualität und wird zum Treiber ethischer und ökologischer Veränderungswünsche. Von der Mobilität bis hin zum Gesundheitsbewusstsein verändert sich unsere Umwelt zusehends. Wachstum wird nicht länger auf rein ökonomische Zusammenhänge beschränkt, sondern menschlich, gesellschaftlich und ökologisch ganzheitlicher betrachtet.
Befeuert werden diese Entwicklungen von einer immer besser vernetzten Weltbevölkerung. Diese Konnektivität stärkt unser Verständnis für globale Zusammenhänge und ermöglicht, dass wir uns als Teil des Ganzen erkennen. Es ist an uns, diese Kraft positiv zu nutzen, indem wir neue Resonanzräume für die aufblühende Netzwerkgesellschaft schaffen. Resonanz entsteht, wenn Menschen, egal wie verschieden, sich sicher und zugehörig fühlen. Eine tiefere Wahrnehmungsqualität und das Gefühl der Selbstwirksamkeit berühren Menschen und bringen sie entgegen der Hyper-Individualisierung wieder näher zusammen.
Wir haben gerade erlebt, wie schnell sich unsere Welt verändern kann. Plötzlich stimmten unsere Erwartungen der Zukunft nicht mehr mit der Realität überein – eine kognitive Dissonanz überfiel uns. Unsere Chance: Wenn die Geschichten der Vergangenheit den Herausforderungen der Zukunft nicht mehr genügen, können wir uns neue Geschichten erzählen. Seien es wirtschaftliche, politische oder gesellschaftliche Strukturen, alles wurde durch Menschen erschaffen und kann somit jederzeit von uns neu gedacht und verändert werden.
Das Denken für eine strahlende Zukunft beinhaltet Emotionen sowie Intuitionen und öffnet sich für neue Interaktionen mit Menschen weltweit. Ich wünsche mir eine Zukunft, in der wir uns alle die Hand reichen. Kooperation anstelle von Konkurrenz.
Verabschieden wir andauernden Zeitdruck, Stress und Konkurrenzdenken, haben wir die besten Voraussetzungen für ein Resonanz-offenes Umfeld, welches eine innovative und resiliente Zusammenarbeit erlaubt. Dabei gilt es, künftig Brücken statt Mauern zu errichten.
Unsere Zukunft verspricht, äusserst komplex zu sein. Kollaborativ können wir sie bestmöglich gestalten. Gemeinsinn schenkt uns hier Rückhalt. Wir erleben bereits eine gemeinwohlorientiertere Grundhaltung in Konzepten wie dem Co-Living, Car-Sharing oder Co-Working, die neben ökonomischen Vorteilen vor allem das Bedürfnis nach flexiblen Formen der Gemeinschaft befriedigen. Unsere Besinnung auf menschliche Kooperationskompetenz zeichnet eine evolutionäre Entwicklung der globalen Gesellschaft und schafft die Grundlage zur Bewältigung bevorstehender Komplexität.
Hab Mut und bleib neugierig!
Im Zustand der Neugier bleibt kein Raum für Angst. Unsere Wahrnehmung verschiebt sich von offensichtlichen Unterschieden hin zu Gemeinsamkeiten und öffnet uns damit für Resonanzerfahrungen und Verbundenheit. Wer neugierig ist, bringt die Offenheit mit, die es für gewinnbringende Kooperation braucht. Mit etwas Mut und Neugier gelangen wir schnell zu einem Gemeinsinn, welcher uns sogar kollektive Traumata überwinden lässt.
Zukunft passiert nicht einfach – jede und jeder von uns trägt immer zu ihrer Entwicklung bei. In diesem Bewusstsein sollten wir unser tägliches Tun mit Zuversicht und Freude gestalten.
---
Diana Wolf-Dolgner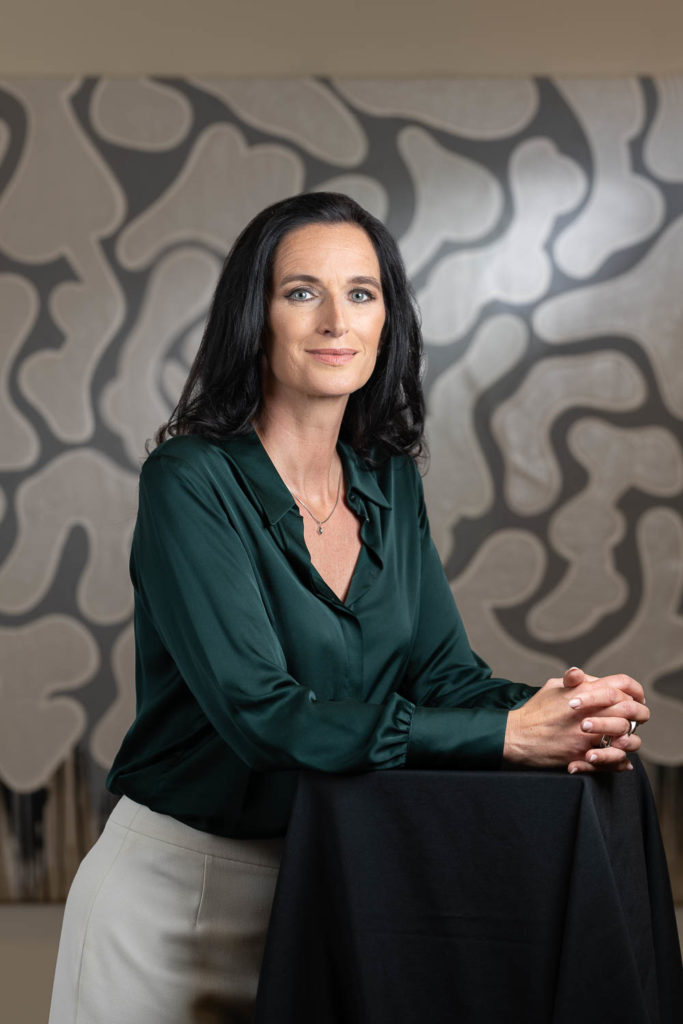 CEO Market & Beyond und
Expertin für Zukunftsmanagement
marketandbeyond.com
Wir müssen die Zukunft
neu denken
Was sind die Top-Themen, die dich zurzeit am meisten fordern in deinem Job?
Angesichts der vielen Trends und Dynamiken, die auch die Coronakrise hervorgebracht hat, ist es gerade als Zukunftsmanagerin eine echte Herausforderung, adäquat informiert zu bleiben und – ohne die sonst üblichen Messen und Konferenzen – mit vielen Menschen zu sprechen. Als Trainerin fordert mich die Transformation im Bildungswesen, die zuletzt deutlich an Dynamik gewonnen hat: Traditionsanbieter verlieren an Attraktivität und Einfluss, während eine Vielzahl digitaler Lernplattformen entsteht. Zwischenzeitlich bin ich Sparringspartner eines EdTech-Start-ups, durch das ich auch selbst meine Digitalpräsenz und -kompetenz verbessern kann. Mit Blick auf meine Mandanten ist das Top-Thema die Sicherung der Zukunftsfähigkeit. Offen gestanden habe ich vor einem Jahr befürchtet, dass viele Unternehmen in einer Habachtstellung verharrend auf bessere Zeiten warten. Doch dies war zumindest bei dem Grossteil meiner Mandanten nicht so. Hier war und ist das Credo, die Chancen zu nutzen und in einer Zeit Punkte zu machen, in der andere nichts tun oder nichts tun können. Alarmierend ist, dass laut einer aktuellen Studie immer noch zu wenig Führungskräfte strukturiert die Zukunftsfähigkeit ihrer Organisation bzw. ihres Teams auf den Prüfstand stellen und auf Sicht fahren. Der Wettbewerbsdruck wird sich weiter erhöhen und der allgegenwärtige Satz: "Das haben wir schon immer so gemacht", hat spätestens jetzt seine Daseinsberechtigung verloren!
Was ist das Disruptivste, was du von der nahen Zukunft erwartest?
Hierzu fallen mir eine Vielzahl von Zukunftsthemen ein, die als sogenannte Tiefenströmungen des Wandels teilweise heute schon und noch mehr in Zukunft auf uns einwirken werden. An erster Stelle steht die Nachhaltigkeit. Sie ist für unseren Planeten und für uns essenziell und wird weiter an Fahrt zunehmen (müssen). Mit Blick auf die Volkswirtschaft wird die nahe Zukunft auch am Arbeitsmarkt entschieden: Ausgelöst durch Digitalisierung, Globalisierung, den demografischen Wandel, KI befindet sich unsere Arbeitswelt in einem grundlegenden Wandel. Unternehmensstrukturen und die Einstellung zur Arbeit verändern sich zugunsten moderner, flexibler und menschenzentrierter Formen der Arbeitsorganisation. New Work ist der Begriff der Stunde und beschreibt das moderne Mindset. "Die Welt vollzieht gerade den Übergang vom Kapitalismus zum Talentismus", formulierte das Klaus Schwab, Chef des Davoser Weltwirtschaftsforums. Ähnlich disruptiv, wenn auch deutlich später, sehe ich in der Mobilität spannende Neuerungen auf uns zukommen – abseits des aktuellen Fahrrad-Booms, Carsharings und der Elektrifizierung. Während das Auto der Zukunft vermutlich einem iPhone auf Rädern gleichen wird und natürlich selbstfahrend ist, wird eine Welle revolutionärer Technologien die Art und Weise völlig ändern, wie wir uns fortbewegen: allen voran der Transport von Passagieren in Flugtaxis für die städtische Luftmobilität.
Was ist deine persönliche Vision von einer Zukunft, die lebenswert ist?
Ich habe die Vision einer Zukunft, in der wir als Weltgemeinschaft gemeinsam die gewaltigen Herausforderungen lösen und weltweit ein menschenwürdiges Leben ermöglichen bei gleichzeitiger Sicherung unseres Habitats – eine Welt, in der gerade junge Menschen den erforderlichen Nährboden vorfinden, um Hoffnung und Chancen in ihren originären Lebensräumen zu haben. Dazu gehören für mich neben der Bekämpfung des Klimawandels der Zugang zu Bildung und Geschlechtergleichstellung. Mit den 17 UN-Nachhaltigkeitszielen bestehen bereits die Leitplanken, um Nachhaltigkeit und Gemeinwohlorientierung zu unserem zukünftigen Lebensmodell zu machen. Jetzt ist es unsere gemeinsame Verantwortung, zur Erreichung der Meilensteine beizutragen: Viele Fortschritte wurden bereits gemacht, etwa bei weltweiten Aufforstungsprojekten. Und es gibt auch kleine, aber smarte "Gamechanger", die oft mehr Fortschritt auslösen als gewaltige Mammutprojekte, wie ich als Mitglied einer Start-up-Jury für Climate-KIC selbst erleben durfte. Wir sollten Veränderungen und technologischen Neuerungen mit Offenheit begegnen, lernen, in (Zukunfts-)Alternativen zu denken, und den Austausch langjähriger Experten und junger Misfits fördern.
Wie können wir die Zukunft neu denken?
Das kann gelingen, wenn wir in der Gesellschaft einen klaren Wertekompass unter Berücksichtigung humanistischer, demokratischer und pluralistischer Werte vermitteln und vorleben sowie die gesellschaftliche Solidarität stärken. Darüber steht die Förderung der Bildung. Gerade wenn die Zukunftsfähigkeit auf dem Spiel steht, gilt es zudem, schnell den Blick nach vorn zu richten und in die Zukunftsgestaltung zu kommen. Alle Umbrüche und Krisen bieten auch Chancen – man muss sie allerdings sehen (wollen). Darüber hinaus besteht bei Unsicherheiten und den oft damit verbundenen Zukunftsängsten bei Mitarbeitern die zentrale Leadership-Aufgabe, dem eigenen Team Orientierung und eine glaubhafte Perspektive zu geben. Die Zukunft lässt sich nicht vorhersagen, doch wir können uns auf sie vorbereiten. Gerade jetzt ist die Zeit, aber auch die Chance, Zukunft neu zu denken!
---
Mrs Marie Chantal Rwakazina
Ambassador of the Republic
of Rwanda to Switzerland and Permanent Representative
to the United Nations Office
and other International Organisations in Geneva
I wish for a world
where the needs of the most vulnerable are met
What are the 3 issues that are on top of your mind at present and that are challenging you? Why are these 3 issues so key for you and how do you try to face them?
The Covid-19 global pandemic; economic recovery; and climate crisis are among the most important issues that are on my mind at the moment.
The global COVID-19 pandemic is of great concern to all of us. It is not just a public health issue; it has had terrible effects on societies and economies. The pandemic has changed our lives overnight and we have had to progressively create a new normal. The pandemic has reminded us of two important things: the first is that we are all interconnected and therefore responses to global challenges must be addressed in a coordinated manner to be effective. In just a few weeks, the pandemic had made its way to all corners of the world, sparing no country. The second one is that we need to strengthen our health systems and build local capabilities, including in vaccines production in order to ensure equity in health matters.
In Rwanda, we have decided to develop vaccines manufacturing capacity. This will soon be a reality, thanks to strategic partnerships such as the agreement Rwanda signed with BioNTech and the European Investment Bank, in the margins of the AU-EU Ministerial Meeting on 26 October 2021 in Kigali, Rwanda.
Just 8 months to the beginning of our vaccination campaign, as of 08th November 2021, we have already vaccinated 100% of the adult population with the 1st dose and 97% is fully vaccinated in the capital city Kigali. Across the country, as of 15th November 2021, 63% of the adult population have got the 1st dose and 34.7% the 2nd dose. This exceeds the World Health Organisation (WHO) global target of immunising 10 per cent of the population of every country by September 2021 in the global efforts to contain the pandemic. Our objective is to have reached 60% fully vaccinated countrywide by the end of 2022 and we believe that depending on availability of vaccines, we might achieve this target by mid 2022.
Economic recovery is another burning issue. How do we get our economies back on their feet while building back better and developing systems that are actually resilient to future shocks?
Rwanda is determined to do so including through product diversification, value addition and the promotion of the Made in Rwanda Program.
The third global issue that is on my mind is the climate crisis. This is the greatest challenge of our time, and like COVID-19, it requires a global response. So far, the world has failed to meet commitments, both in terms of climate action and climate financing. The stakes are high for the UN climate change conference (COP26).
The largest economies who are responsible of 80% of emissions must support the rest of the world to deal with the consequences and be part of the solution. Africa has been particularly affected by the effects of climate change, and in July this year, the African Union launched its new 5-year Green Recovery Action Plan, which has biodiversity, renewable energy and climate finance as pillars.
Rwanda actively participated in COP26 held from 31 October to 12 November 2021 in Glasgow, Scotland. Its contribution included co-chairing negotiations on common timeframes for emission reduction commitments (nationally determined contributions) with Switzerland. It also shared its track record of fostering innovative solutions to climate change as one of the best destinations for green investment. The country is committed to protecting and addressing climate change and is working hard to achieve its 2030 goal of reducing 38% of its emissions, with a vision to be a climate resilient and a carbon neutral economy by 2050.
The fight against climate change is everyone's responsibility regardless of geographical location. Mindful of this situation, the Embassy and Permanent Mission of the Republic of Rwanda in Geneva joined on 28 September 2020, a Swiss-led climate action Initiative "2050Today" and committed to reducing our Embassy's emissions every year by 5% – and even more if we can – to achieve at least a 50% reduction in 2030, with the objective of reaching zero GHG emissions by 2050.
As the Ambassador of the Republic of Rwanda to Switzerland and Permanent Representative to the United Nations and other International Organisations in Geneva, I take part in various reflections on a multilateralism that is more effective, more inclusive, more science-based to address current and future global challenges. Rwanda will continue to be a strategic partner in advancing this kind of multilateralism.
What are the most disruptive things that you expect to happen in the near future?
To me, one of the most disruptive things which the near future holds is the new chapter of international trade and more specifically intra-African trade. In March 2018, at a historic meeting of the African Union in Kigali, Rwanda, member states of the African Union signed the African Continental Free Trade Agreement (AfCFTA). Though the implementation of the latter was slowed down by COVID-19 pandemic, the full implementation of AfCFTA in post-pandemic future will cause one of the most positive disruptions in the history of intra-African trade towards a more integrated African regional economy. African trade is largely dominated by extra-African trade which accounts for 85% of total African trade, against 48% for Asia and 27% for Europe. Intra-African trade accounts for about 15% of total African trade, against 73% in Europe and 52% in Asia. The AfCFTA is expected to boost intra-African exports by over 81% and extra-African exports by 19% by 2035.
The AfCFTA will affect us in three areas: first, it will increase intra-African trade due to the removal of tariff barriers and non-tariff barriers across Africa and will better include Africa in global trade supply chain. This will certainly provide a big incentive to regional trade, contribute to tackling poverty and inequality as AfCFTA's wide scope will facilitate structural changes in African economies. Second, it will encourage businesspeople to make the investment needed to sustain economic growth and create job opportunities. Third, AfCFTA includes a protocol on free movement of people which will facilitate labour mobility in the continent.
What is your personal vision of a future you would like to live in with your loved ones? What should be done to create a future together that is bright?
In Rwanda, we have experienced first-hand what leadership based on hate, division and exclusion can do in destroying society compared to what the current leadership based on unity, consensus and a common purpose has accomplished and continues to accomplish.
To create a brighter future together, our current people-centred governance will keep playing a central role.
I wish for a world where a life's worth is the same everywhere, a world where everyone can achieve their full potential without discrimination of any kind, a world where differences are considered richness rather than threats, and a world where the needs of the most vulnerable are met.
How can we overcome a collective trauma as a society and as individuals – as leaders and role models?
The first step is to acknowledge the trauma and the victims. Then you need to reflect and understand what happened and why it happened. From that point, if you make a decision to heal, you must put in the work and sustain it. This is a long-term enterprise that takes generations to be complete. To heal any type of trauma, there is a need for justice, forgiveness, dialogue, reconciliation, memory, education and a structural change to avoid future similar traumas.
The post 1994 genocide reconstruction in Rwanda is hailed as a success due, in part, to community-based Genocide courts known as "Gacaca" courts, which were based on a traditional form of dispute resolution. In just 10 years, over 130,000 suspects were tried through Gacaca courts, compared to 93 suspects indicted by International Criminal Tribunal for Rwanda. Of these, 63 were sentenced. The Gacaca, combined with other Unity and Reconciliation programs, allowed for justice to be served and for communities to reconcile.
To safeguard the Rwandan identity that we have been building over the 27 years but also to preserve the memory of the 1994 Genocide against the Tutsi and to educate future generations on the dangers of divisionism, the Ministry of National Unity and Civic Engagement was recently created.
All this requires a collective effort to stay together and to move forward as a society. That is the decision that Rwandans took after the 1994 Genocide against the Tutsi. As H.E Paul Kagame, President of the Republic of Rwanda highlighted at the 20th Commemoration of Genocide Against the Tutsi "after 1994, everything was a priority and our people were completely broken. But we made three fundamental choices that guide us to this day: being together; being accountable to ourselves; and thinking big".